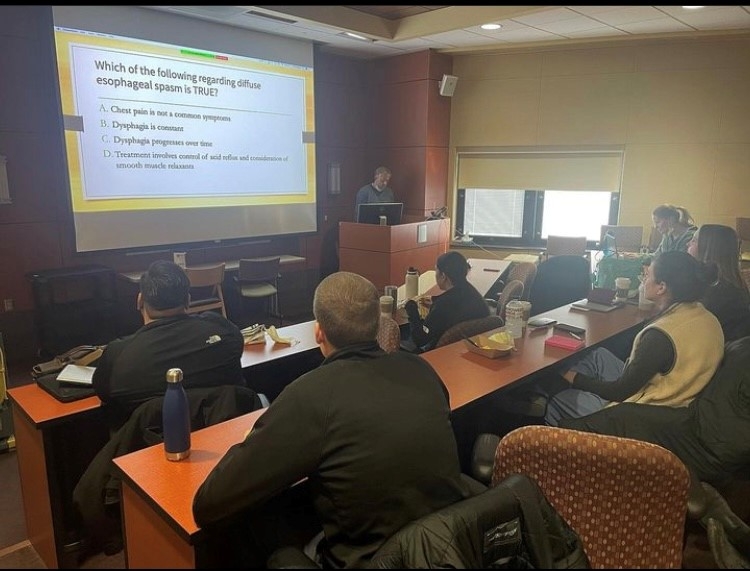 Didactics Overview
The conference schedule provides academic exposure to the Core Curriculum of Emergency Medicine. It systematically prepares residents for the certification examinations of the American Board of Emergency Medicine. During the residents' training, in-service training examinations and written and oral board preparation examinations are taken. Individuals are also evaluated on clinical and academic proficiency. Residents are required to complete a research project or prepare a paper for publication prior to graduation. Our residents are supported by research associates, undergraduate students who assist in patient enrollment for ongoing studies. Opportunities to teach paramedics, serve administratively, and follow academic pursuits are provided. 
WEEKLY DIDACTICS CONFERENCES
Held every Thursday 7:30 am - 12:00 noon and covers the following:
- Core Content
- Morbidity and mortality cases
- Junior Literature Review
- Senior Grand Rounds
- Journal Club & problem-Based learning sessions
- Junior & Senior Case Conferences
- Oral Boards Practice
- Guest lectures
SPECIAL DIDACTICS EVENTS
- High fidelity SIM Lab monthly with pediatric and adult cases
- Procedure Lab (Twice per year)
- Wilderness Medicine outdoor lab
- Suture Clinic
- Splint Lab
- Airway Lab
- Extrication Lab
- ACLS Instructor Training
- NRP Certification
- ATLS Certification
- Base Station Training
- Trauma, Surgery, and Pediatric-EM Interdisciplinary Conference
- Ultrasound labs occur in monthly small group sessions with live models with instruction from our ultrasound director
Additionally, we provide our residents with a large variety of resources to study for Boards including HIPPO EM, ROSH Review, National Board of Emergency Medicine, PEER Review, and ECGWeekly.