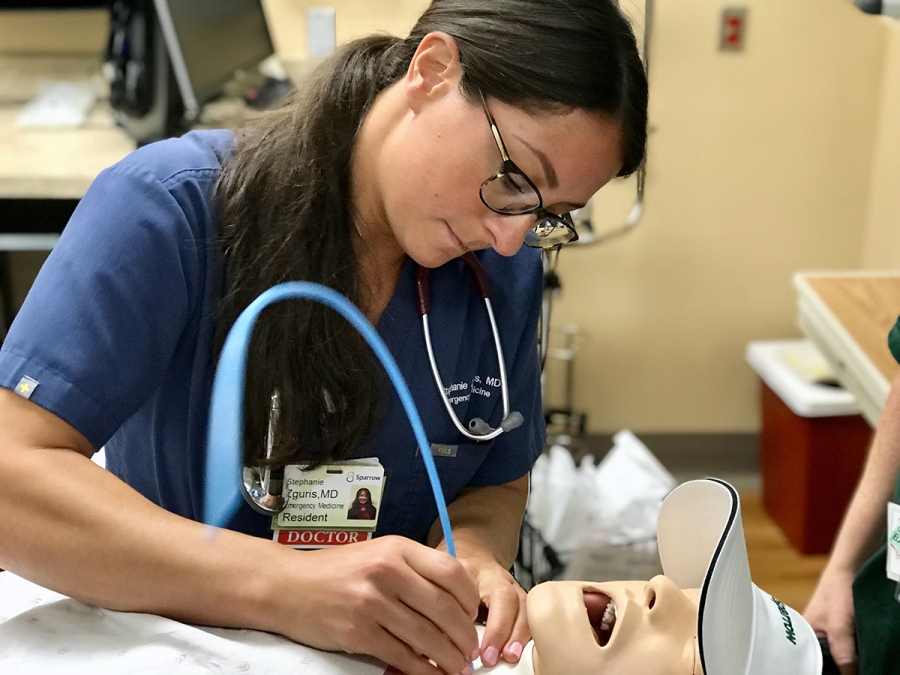 The Sparrow/Michigan State University emergency medicine residency is a three year program that participates in the National Residency Match Program (NRMP) and Secondary Offer and Acceptance Program (SOAP). We offer 8 categorical positions per year and our program code is 15210496C and welcomes both allopathic and osteopathic medical students to apply. In order to apply to our program, you must have United States Medical Licensing Exam (USMLE) Step 1 or Comprehensive Osteopathic Medical Licensing Examination (COMLEX) Step 1 completed by the time ERAS opens.  
Program review of Applications
Application Requirements
Dean's Letter 
Medical School Transcript
One SLOE (Standardized Letter of Evaluation) is encouraged 
Personal Statement 
Results of USMLE/COMLEX Step 1 and Step 2
Three letters of recommendation-We require that at least one comes from an emergency medicine physician. 
The Sparrow/Michigan State University Emergency Medicine Residency takes a holistic approach in selecting applicants to interview with the program. Things that are taken into consideration prior to extending an interview include commitment to emergency medicine, research experience, extracurricular activities, personal statement, and USMLE/COMLEX Step 2 scores. Other things taken into consideration are personal traits that will help you become successful such as a strong work ethic, self-awareness, good communication, and integrity. 
Interview Season
The Sparrow/Michigan State University emergency medicine residency program will participate in preference signaling through ERAS. Interview season is conducted based upon the guidelines and recommendations of the Council of Residency Directors (CORD). Once an interview invitation is granted to you we ask that you respond within 72 hours to accept or deny the invitation. If you have a special interest in our program and you did not receive an interview invitation please feel free to reach out to us letting us know the reasons for why you would like to interview with us. Interview invitations will be sent out no later than October 12, 2023. In the event that a problem arises and you are unable to make it to your scheduled interview date, please notify us at your earliest convenience so that we can provide you with an alternate date and time. Please know that we will need you to sign the Sparrow Resident Attestation Form prior to the start of your interview day. Interview sessions are held in the morning and afternoon on different Tuesday and Wednesday dates. We look forward to meeting you! Please feel free to contact us if you have any questions. 
International Medical Graduates (IMG) Applications
For graduates of medical schools outside of the United States and Canada, the necessary qualifications are the following:
Current certificate from the Educational Commission for Foreign Medical Graduates (ECFMG).
Sparrow Hospital only sponsors J-1 visas and will not accept H1B visas. 
Three letters of recommendation